BnK Japan is officially established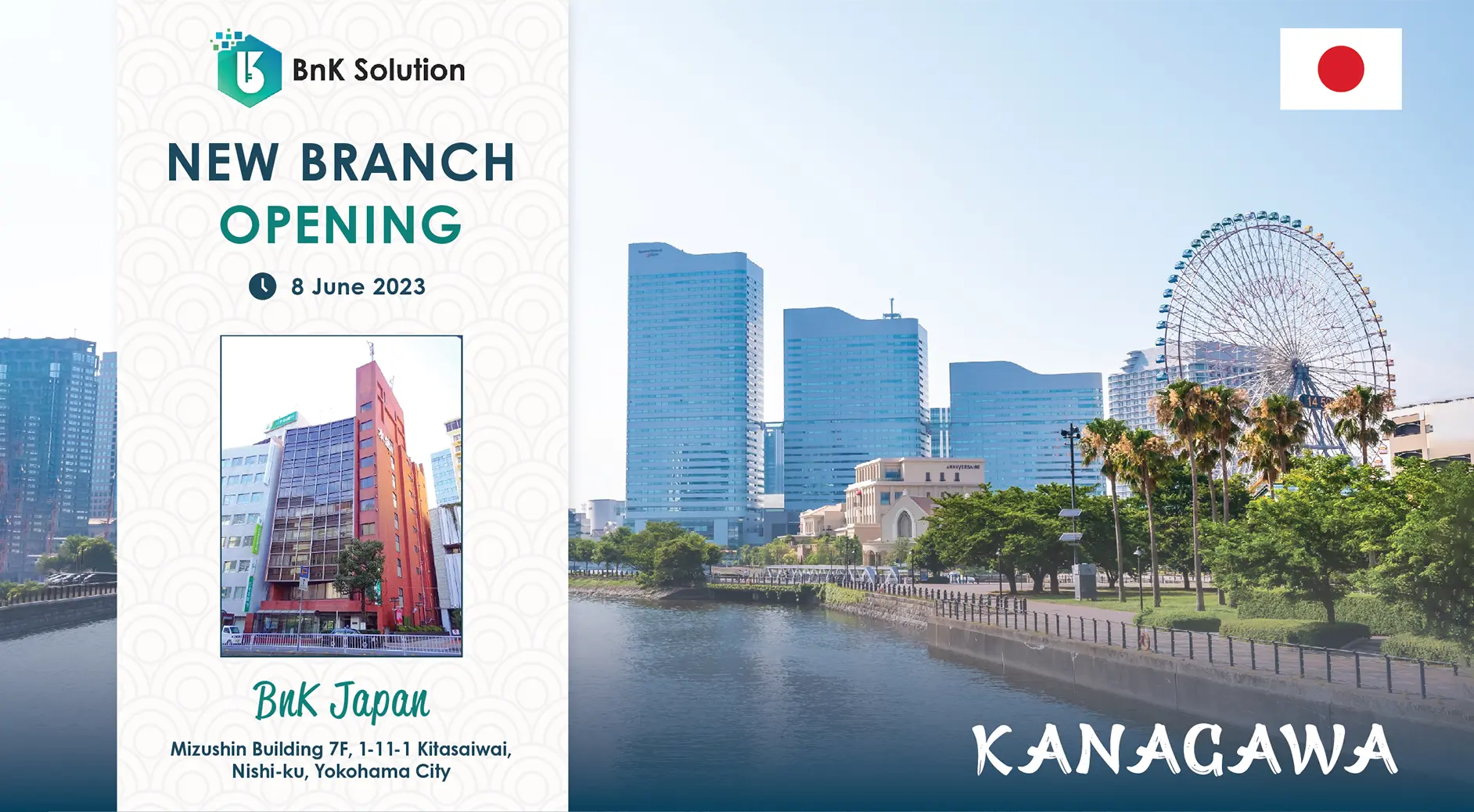 June 8, 2023, BnK Japan was officially established in Kanagawa, Japan! 
Experiencing an arduous journey since the Board of Directors of BnK Solution decided to establish BnK Japan, it was not until one year later that that decision officially became a reality. It is undeniable that the establishment of a subsidiary company, under the management of another country, requires meeting a lot of subjective and objective conditions. So, after a lot of efforts and difficulties brought about by the context, the successful establishment is a proud result that BnK Solution has achieved.
It can be said that BnK Japan is the bridge that helps BnK Solution bring its best products and services to customers in Japan. At the same time, this is also an important step, not only helping to expand its business in the Japanese market but also creating a premise for BnK to enter the APAC market as well as expand internationally. 
BnK Solution sets out the goal of promoting connectivity to businesses, completing the process of transferring digital transformation solutions and advanced software development services through a team of highly qualified experts and technical support system ready to meet all customer requirements. 
Quick deployment, easy integration and cost optimization are the top 3 factors that make the difference and reputation of BnK Solution. 
--------------------------
BnK Japan chính thức thành lập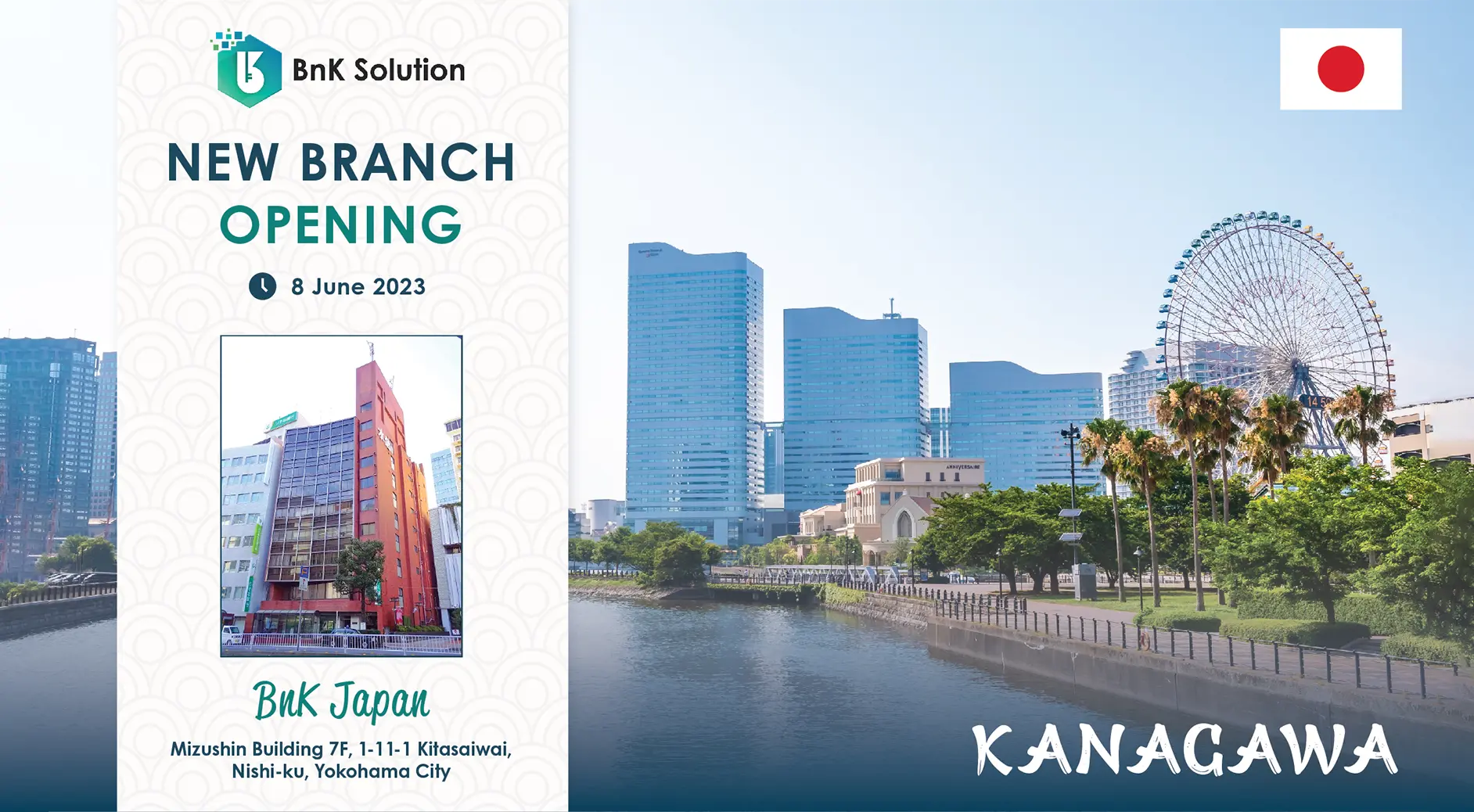 Ngày 8 tháng 6 năm 2023 BnK Japan chính thức được thành lập tại Kanagawa, Nhật Bản! 
Trải qua một hành trình gian nan kể từ khi Ban lãnh đạo BnK Solution quyết định thành lập BnK Japan, sau tròn 01 năm quyết định đó mới chính thức trở thành hiện thực. Không thể phủ nhận việc thành lập một công ty chi nhánh, trực thuộc sự quản lý của một quốc gia khác đòi hỏi đáp ứng rất nhiều điều kiện chủ quan lẫn khách quan. Vì vậy, sau rất nhiều nỗ lực và khó khăn do bối cảnh mang lại, việc thành lập thành công là một kết quả đáng tự hào mà BnK Solution đã đạt được. 
Có thể nói, BnK Japan chính là cầu nối giúp BnK Solution mang những sản phẩm và dịch vụ tốt nhất của mình đến với khách hàng tại Nhật Bản. Đồng thời, đây còn là bước tiến quan trọng, không những giúp mở rộng kinh doanh tại thị trường Nhật Bản mà còn tạo tiền đề đưa BnK tiến vào thị trường APAC cũng như vươn ra quốc tế. 
BnK Solution đặt ra mục tiêu đẩy mạnh kết nối đến các doanh nghiệp, hoàn thiện quy trình chuyển giao  giải pháp chuyển đổi số và dịch vụ phát triển phần mềm tiên tiến thông qua đội ngũ chuyên gia có trình độ cao và hệ thống hỗ trợ kỹ thuật sẵn sàng đáp ứng mọi yêu cầu của khách hàng.  
Triển khai nhanh chóng, dễ dàng tích hợp và tối ưu chi phí là 3 yếu tố hàng đầu tạo nên sự khác biệt và uy tín của BnK Solution.